Donate Now
We are primarily funded by community contributions. Property tax dollars are not used to support our operation.
The West Ridge Fire Department is a combination Part Time Paid / Volunteer Fire Department that is located in the southwestern Millcreek Township, a western suburb of Erie, Pennsylvania. Currently, Millcreek Township is the 2nd biggest municipality in Erie County with a population of around 53,000. The West Ridge Fire Department is officially designated as Erie County Fire Department #46.
---
Give Today - Online
---
Contribute
The West Ridge Fire Department responds to your need for fire, rescue, and emergency services. Click below to make an unrestricted donation that helps support the department within the community.

---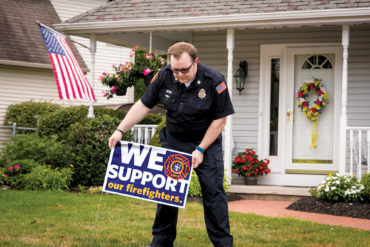 Yard Signs are Available
Don't forget to mark the checkbox when making your donation, and we'll post a 24"x16" color sign in your yard — showing your proud support of our local firefighters!
We will post your sign after receiving your donation. It is up to you how long you display your sign. Please consider waiting until after Fire Prevention Week in October to discard your sign. Thank you!